Hope everyone is keeping safe!
 

 
Just like that, and we are in February!

January welcomed the start of our "Sensory Explorers" activities during our Wednesday Pre-School session, and what fun this has been! These activities are aimed to help the children explore their senses whilst using a range of equipment (such as foil blankets and bubbles). 

A big thank you to the Community Dental Team for allowing us to expand our sensory equipment library, we cannot wait to test out our new purchases with families!

If you would like to experience this yourself with your child/children, book on for Wednesday sessions via our booking site link : https://bookwhen.com/littleheroesasd
 

We are excited to announce we will be continuing to offer 'Zumba' every Thursday, taught by our external teacher Penny (keep an eye out for her teacher profile making an appearance on our social media platforms soon!). A massive thank you to 'The ROSCA Trust' for enabling us to continue this session. Please note – these sessions will be reviewed at the end of this school year (July 2022). We will be monitoring the attendance weekly.

To book in for 'Zumba', please follow the below link to our booking site:

https://bookwhen.com/littleheroesasd
 



 As Coronavirus rules start to change, we are trying to work with our families to get back to some sort of normality with our sessions. We have made our 'Parent/Carer' sessions drop in as oppose to booking. We have done this to allow those who need support the opportunity to drop in and out when suitable to fit around their schedules. 

These sessions are every Friday during term time, 10am-12pm. We do recommend arriving no later than 11:30am to ensure you are able to make the most of the session. We are still asking all those attending to wear a face covering to reduce the risk of passing anything on to other families, volunteers and staff members.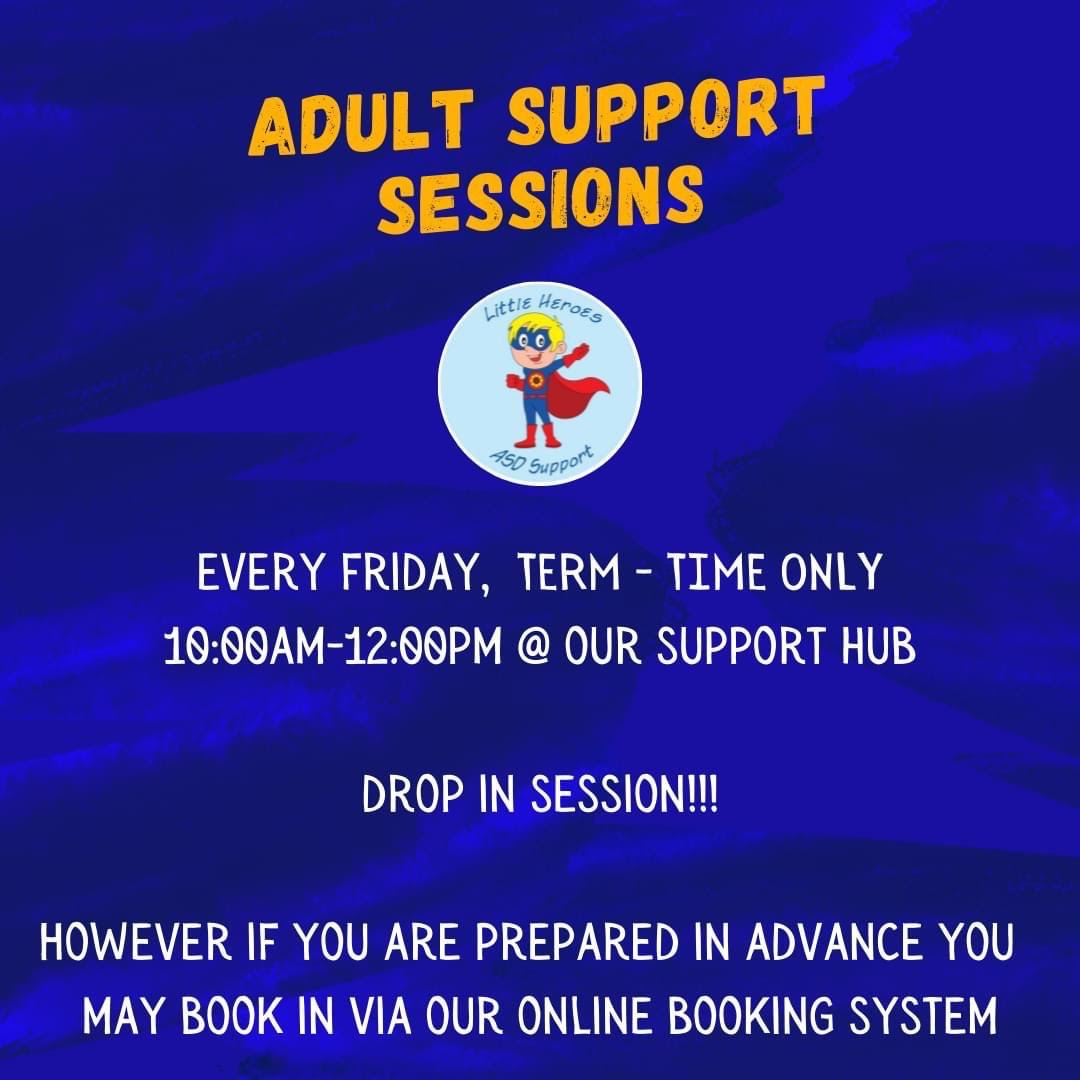 Our website is currently being updated, so don't fear if something doesn't look quite right! It is a work in progress and we hope this will be up and running as normal over the next few weeks!
 

 We are looking forward to our half term activities – Just Ride and swimming. It feels like forever since we were enjoying the outdoors whilst riding on one of many bikes, or having fun splashing about in the pool with our friends. 

Due to many questions regarding our activities, we just want to remind you that we are a self funded independent charity and would love to be able to contact you each individually to let you know what is available.

However, instead we openly advertise all opportunities at in hub sessions, sessions are available through the week, at weekends, with or without children. Families often pop in too when time allows.

You will often see on social media posts letting people know activities are up for booking in sessions, then if spaces we advertise on here.  We do our best to reach as many of the 600+ families we see face to face and reach out to as many of the 4000 plus people we may interact with virtually.

This is just a polite notice that we are not a statutory service, we are a small independent self funded charity that has developed and grown by families of children with autism for families of children with autism.  We keep it real and are reactive to the needs of local families.  

We do have a monthly update that is sent out via email, to register for this we ask you to visit our website www.littleheroesasd.co.uk and register your details, we know from first hand experiences that we receive an overload of emails and so do not want to bombard you, hence we have made the option for you to opt in or opt out of the monthly updates this way rather than automatically send out to everyone we have ever met and said they are happy for emails.

 


 To book your space, email : events@southendmayorscharity.net



 Autism awareness and acceptance weeks give everyone an opportunity to create positive awareness within our local community around autism.  This in turn will hopefully enable a more accepting society which means that it will be easier for people of all different ages living with autism.

We are currently busy planning a schedule to encourage exactly this, more details will be unveiled soon.  

Meanwhile off the back of some unfortunate events we have seen our local community come together to help support Little Heroes ASD Support Group via a number of fundraisers.  Please feel free to take part in anyway possible to help support these:

Charity Disco – Little Heroes ASD Support | Facebook
 Westcliff on Sea RBL Club have chosen "Little Heroes ASD Support" to be the second charity to benefit from their monthly 2022 charity initiative.
They are having a disco with Rock N Roll Bingo and a raffle on Saturday 12th February. Children are welcome too.
Hopefully this will help to replace some of the money that was in the charity box, which was recently stolen from Chris' Toy Box.

Crowdfunding to to support 2 local small charities on JustGiving

Lisa and Sam are going to be climbing Snowdonia on May 28th 2022, they are doing it for 2 small local charities that their close to our hearts 
 Little heroes ASD Support and Southend Hospital Renal Unit 


In addition, a number of our Dad figures have expressed interest in coming together to help raise even more funds and have arranged a sponsor walk from Shoeburyness to Chris Toy Box and Bouncy Castle Hire on Sunday 3rd April.  This will be over 6 miles of positive autism awareness within our local community.  If you or anyone else you know would like to participate please either pop into the hub to find out more or email bookingslittleheroes.asd@gmail.com and we can keep you updated.As always, we thank you for your continued support and we hope to see you all at the hub very soon! Other News…….Please remember Clarks offer appointments to suit – this may be before the store opens, contact your preferred store and talk to them directly meanwhile we have a message from Clarks Shoes in Rayleigh…."If you need a quiet time appointment for a children's measure and fit appointment then we are happy to offer an early morning appointment at Clarks Rayleigh.Please ring the store for an appointment 01268 771746.



Online Charity Shop
Little Heroes ASD Support Online Charity Shop | Facebook


AvonOur volunteer Helen is an Avon rep.  If you would like to have a look through the latest brochure please get in touch with Helen on 07763 359723 and she will happily arrange delivery for you.Or visit her online shop https://www.shopwithmyrep.co.uk/avon/Hels-beauty-boutique to see the latest  bargains.A percentage of the commission is being returned to the charity for each order received.DonatingWe have had enquiries as to how to donate, this code will hopefully make life easier for those wishing to donate this Christmas and beyond.  As always – thank you.

Please stay safe everyone
Find out even more…